Northeastern Division Project Spotlight:
Decades of collaborative management see positive trends toward restoration of self-sustaining Lake Trout population in Lake Champlain
By Courtney Buckley, FMS Northeastern Division Representative; Fisheries Biologist with Vermont Agency of Natural Resources
Following the loss of native populations of Lake Trout due to water quality and habitat changes in Lake Champlain, restoration efforts began in the 1950s. The Lake Champlain Fish and Wildlife Management Cooperative (Cooperative) was organized in 1972 by the directors of the fish and wildlife agencies of Vermont and New York and the Northeast Region of the U.S. Fish and Wildlife Service with the goal of maintaining an abundant lake trout population that supports a quality recreational fishery while striving to increase the number of wild fish in the fishery. There was little evidence of successful natural reproduction during the first 60 years of this program despite stocking 82,000 fin-clipped fish annually.
An increasing number of unclipped juvenile Lake Trout have been observed by University of Vermont researchers in the last 12 years, suggesting successful natural reproduction and the establishment of a wild population (Figure 1). Since 2020, surveys conducted by the Cooperative have reported an increasing percentage of unclipped juvenile Lake Trout exceeding the threshold established in the Strategic Plan for Lake Champlain Fisheries for reducing stocking. In 2021, the Cooperative reduced stocking by 33 percent to avoid overstocking and maintain quality trout populations.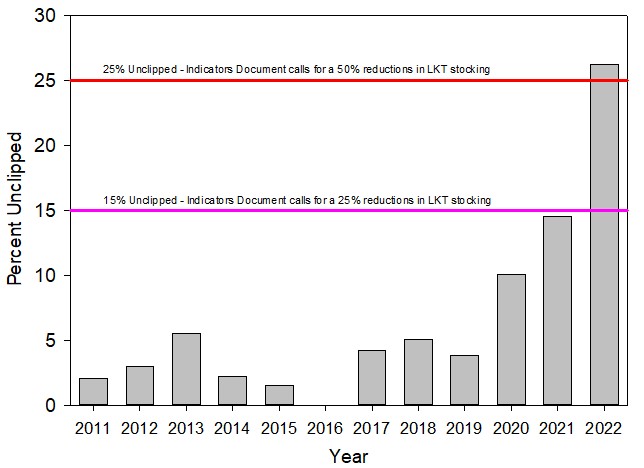 The 2022 assessment again indicated that the percentage of wild fish was above the established threshold for further stocking reduction. In response to this data, the Cooperative has reduced the 2024 Lake Trout stocking by 50 percent and plans to stock 41,000 Lake Trout in fall of 2023. Members of the Cooperative, along with University of Vermont researchers, will continue conducting annual assessments and data collection to guide future decisions. The observations of increasing wild Lake Trout production in Lake Champlain are a positive sign for the future of the lake's ecology and a testament to the collaborative management efforts made toward the restoration of a self-sustaining lake trout population.