Southern Division Project Spotlight: A deep dive into Smallmouth Bass diversity in Arkansas to improve conservation and management
By Nick Feltz, FMS Southern Division Representative and Fisheries Management Biologist with Arkansas Game and Fish Commission
       Arkansas highland streams make up the southern border of the native distribution of Smallmouth Bass (Micropterus dolomieu; Figure 1). As such, Smallmouth Bass in these areas have developed adaptations to persist under temperature and hydrological extremes that exist in these drainages. As a result, Arkansas is the center for known Smallmouth Bass genetic diversity, being home to three distinct genetic lineages of Smallmouth Bass (I.e. Neosho, Quachita, and Northern Smallmouth Bass; Figure 2).
       The fine-scale distribution of these genetic lineages and the genetic integrity of these populations are largely unknown. Hybridized populations exist within these regions due to past stockings, movement of fish by anglers, and natural movements of fish. In 2020, the Arkansas Game and Fish Commission (AGFC) in partnership with the University of Arkansas initiated a project to 1) further characterize unique lineages of Smallmouth Bass with genetic and morphometric analysis, 2) determine fine-scale distribution of distinct lineages, and 3) quantify the extent and distribution of hybridization among the lineages.
       Over 1,500 genetic samples and 250 morphometric samples were collected across the five primary highland drainages in Arkansas (112 locations; Figure 3). Processing and analysis of these samples are currently ongoing. Once complete, genetic analysis will help identify locations of 1) high conservation priority (no hybridization) to be maintained and used as source populations for collecting brood stocks, 2) high restoration priority (limited hybridization) for reestablishing pure populations, and 3) high natural or artificial hybridization. Morphometric analysis will help determine if distinct lineages can be identified by biologists in the field. This project will aid in AGFC's ability to manage these populations for both conservation of these genetic lineages and recreational angling opportunities.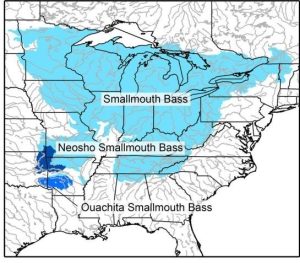 Figure 1. Native ranges of three recognized forms of Smallmouth Bass found in Arkansas. Nanfa.org.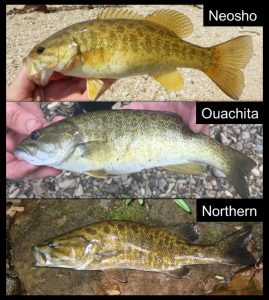 Figure 2. Three unique genetic lineages of Smallmouth Bass endemic to Arkansas. Arkansas Game and Fish Commission.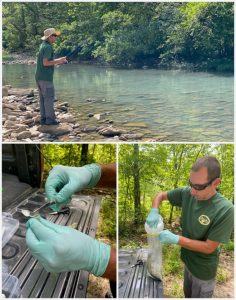 Figure 3. Former Arkansas Black Bass Program Biologist, Jeff Buckingham, hook and line sampling for genetic and morphometric samples in an Ozark Mountain Stream. Arkansas Game and Fish Commission.